Alexandra

masters

dir. Aleksander Sokurow / Russia 2007 / 92'
Film description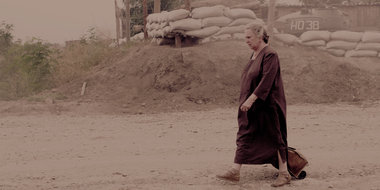 Cast:
Galina Wisznevskaja (Aleksandra), Wasilij Szewcow (Denis), Raisa Giczajewa (Mailka), Andriej Bogdanow, Aleksander Kładko
Chechen Republic, present day. Russian troop positions. Alexandra Nikolaevna is a grandmother who has come to see her grandson, one of the best officers in his unit. She will spend a few days here, and will discover a new world. In this male world there are no women, no warmth or comfort. Daily life is meagre, people are shy of their feelings here. Or maybe there simply isn't time or energy for feelings. Every day and every hour questions of life and death are decided here. And yet people still live there.
Alexandra is a story with a political background: a Russian grandmother goes to visit her grandson, an officer stationed in the Republic of Chechnya. Sokurov gave the title role to Galina Vishnevskaya, who, at 80, is a legend of the Russian opera scene, and the widow of the great cellist Mstislav Rostropovich.
IFF Cannes 2007
For me this story is not about the actual but about the eternal. Not about present-day Russia, its policies in the Caucasus, its army, but about the eternal life of Russia. War is always a terrible thing. In this film about war there is no war. Our film is a work of fiction, not a political act. In the film, we are looking for ways to bring people together, and we find them.
Alexander Sokurov