In the Shadow of the Light

documentaries / essays

dir. Sarah Payton, Chris Teerink / Netherlands, USA 2007 / 90'
Film description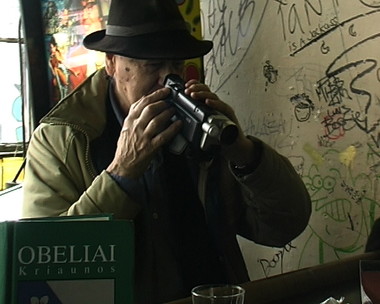 Cast:
Jonas Mekas
An atmospheric portrait of one of the founders of avant-garde cinema, Jonas Mekas. At the age of 85, he still untiringly runs the offices of his Anthology Film Archives in New York, were lovers and students still throng in search of that one unique film.
Documentary… it's when somebody makes a film on a certain subject with the intention of revealing, telling everything about it that is important. It is the kind of film I hate. So says Jonas Mekas somewhere in the middle of this film, which is more document than documentary. Don't expect introductions or explanations or facts (for example, that Jonas Mekas was born in 1922 in Lithuania, moved to New York after WWII, is considered to be the godfather of American avant-garde films and the inventor of the diary film, is the founding father and artistic director of Anthology Film Archives, etc). Jonas wanders the hallways and rooms of his archive, or holds court at the round table in his room. Around him the work of Anthology goes on: archive, cinema, meeting place, and as one worker tells, home for lost film rolls.
A film about love for the moving image, in particular the small, fragile, independent work which Anthology preserves and promotes, and which Jonas Mekas himself personifies.
IFF Rotterdam 2007