Walk the Talk

new Australian cinema

dir. Shirley Barrett / Australia 2000 / 111'
Film description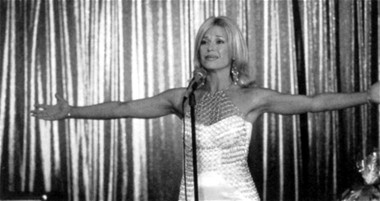 Cast:
Salvatore Coco (Joey), Sacha Horler (Bonita), Nikki Bennett (Nikki), Carter Edwards (ojciec Nikki), Robert Coleby (pastor Bob), Skye Wansey (Barbara), John Burgess (Rex), Jon English (Phil), Nicky Wendt (Linda Mundell)
After the success of Love Serenade (1996), winner of the Camera D'Or in Cannes, Shirley Barrett's second feature was much anticipated. Like the earlier film, Walk the Talk is peopled with eccentric characters who think they're ordinary. Joey, played with tremendous energy by Salvatore Coco, is a hustler who lives off his crippled girlfriend, Bonita and uses the $1 million compensation she's just received for the accident that made her a paraplegic for his own purposes. When he meets Nikki Raye, a not-very-talented singer, he decides to become her agent and turn her into a star, despite the lack of enthusiasm shown by her father, an established entertainer. Barrett evokes the rather seedy world of Queensland's Gold Coast, a seaside resort filled with junk food and second-rate entertainers, with great precision.
David Stratton
Walk the Talk skillfully satirizes our obsession with good news, positive thinking, and post-Reagan, post-Oprah doublespeak. Instead of showing us how we should follow our dreams no matter what, it courageously reminds us that some dreams should be abandoned immediately.
Steve Gravestock, IFF Toronto 2000
Shirley Barrett urodziła się w 1961 roku. Była współtwórczynią serialu A Country Practice (1981), nakręciła również krótkometrażową komedię Cherith (1988). Następnie zrealizowała samodzielnie seriale Police Rescue (1990) i Szkoła złamanych serc (Heartbreak High, 1994). To doświadczenie pozwoliło jej zrealizować pierwszy pełnometrażowy film - Serenadę miłości (Love Serenade), zaskakującą komedię romantyczną o dwóch siostrach, które kochają tego samego mężczyznę. Walk the Talk to drugi film pełnometrażowy w jej reżyserskiej karierze. Obecnie pracuje dla telewizji.