The Bet Collector

discoveries

Kubrador
dir. Jeffrey Jeturian / Philippines 2006 / 98'
Film description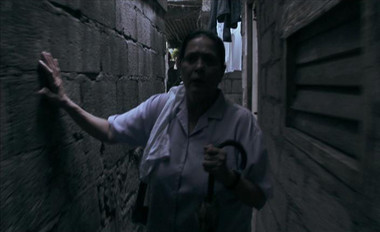 Cast:
Gina Pareño (Amy), Fonz Deza, Nico Antonio, Ran Del Rosario, Johnny Manahan, Nanding Josef
producent / producer: Rogelio I. Rayala

Amelita or Amy, wife, mother and grandmother, in order to earn her daily commissions, collects bets for jueteng, an illegal numbers game run by a local network of urban slum dwellers. Faith in God gives her strength and numerology helps her make sense of life's vicissitudes. She is still haunted by the death of her soldier son.The local police will make a sudden arrest.Another neighbor will meet an untimely death. When Amelita goes to visit her son's tomb, a stray bullet misses her by an inch but hits an innocent bystander instead. She wants to understand why.
IFF Thessaloniki 2006
Director Jeffrey Jeturian begins The Bet Collector as an observational portrait of one fierce woman. His camera follows Amy as she cajoles neighbours for bets, squabbles with her husband and offers unsolicited advice to a young woman about to marry a foreigner. But as Amy emerges as a more complex, layered character, her story takes on dramatic momentum. Jeturian understands the pleasures of melodrama and gives The Bet Collector just enough delicious anguish to satisfy his audience. But his observational style opens up the hothouse atmosphere common to the genre. The film ranges through the streets and homes of working-class Manila, offering an up-to-the-minute portrait of life lived in the hope of one small victory.
Cameron Bailey, IFF Toronto